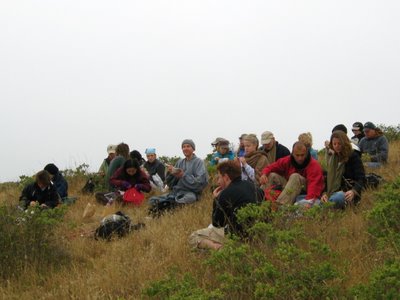 For more photos click here:
Art of Pilgrimage
Here's the Zen story from the "Book of Serenity" the Owl told the group:
Zen Teacher Earth Treasury asked the monk Dharma Eye as he was leaving the monastery, "Where are you going?"
Dharma Eye said, "I'm going on pilgrimage."
Earth Treasury asked, "What is the purpose of pilgrimage?"
Dharma Eye said, "I don't know."
Earth Treasury said, "Not knowing is most intimate."
Dharma Eye was greatly awakened at these words.
Thanks to each of you that showed up to walk the trails on Coyote Ridge and the Coast Trail. I hope the time we share on the path and in the wilds bring aliveness to you and all those your life touches.
Gratefully,
Steven
For more photos of Green Gulch Farm Zen Center click here:
Green Gulch