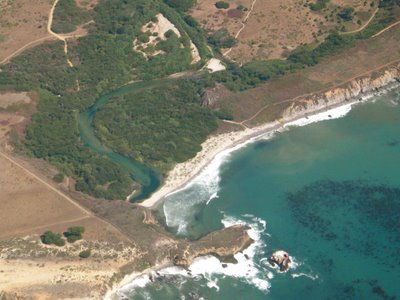 Big Sur River Mouth
For those of you that have a connection to Big Sur and want to follow this winter's progress this could be of interest?
Here is a link to a webcam set up in the back of Pfeiffer Big Sur State Park (up river from the ball diamond and down stream from the Gorge where there was a bridge). Of course at night you can't see anything, but during rainstorms in daylight you might catch some interesting stuff. Once you are on this page scroll down to the the webcam picture:
Big Sur River Web Cam
For the current weather in Big Sur here is my favorite link:
Big Sur Weather: 7-day forecast
For Nepenthe's webcam that looks south down the coast towards Esalen:
Nepenthe Web Cam
With both of the webcams you might need to occasionally hit the refresh button on your browser to get the udated image.
Here in Big Sur we are hoping for light rains in well timed intervals... we will see.