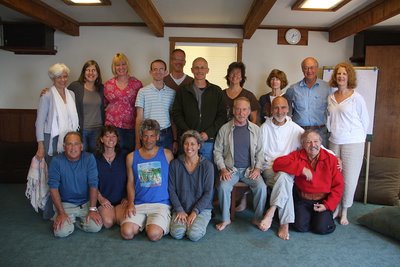 Nature & Contemplation at Esalen
"Nature is never spent: there lives the dearest freshness deep down things,"
writes the mystic poet Gerard Manley Hopkins.
One word:
Gratefulness
Gratefulness for the many opportunities to touch
the dearest freshness deep down things
.
Gratefulness for Brother David, everyone in our group, Big Creek Reserve, Esalen, Partington Cove, Slates Hot Springs, good food, perfect weather, mountain lion scat, condor feathers, deep pools of clean fresh water, waves, poems, redwoods, The Hermitage, silence, a fuller breath, soft eyes, the more and ever more, Gravity, belonging, the sponge, dialogue, wholeheartedness, fearlessness, and to doing the next right thing...
"When we re- move the world from our shoulders we notice:
It doesn't drop. Where is the responsibility ? "
~ John Cage
Love,
Steven
Links:
Nature & Contemplation
P

hoto Collection
or as
Slideshow
Gratefulness.org
Steven K Harper
iThou.org
New Camaldoli Hermitage